10 Frequently Asked Questions about Comb Binding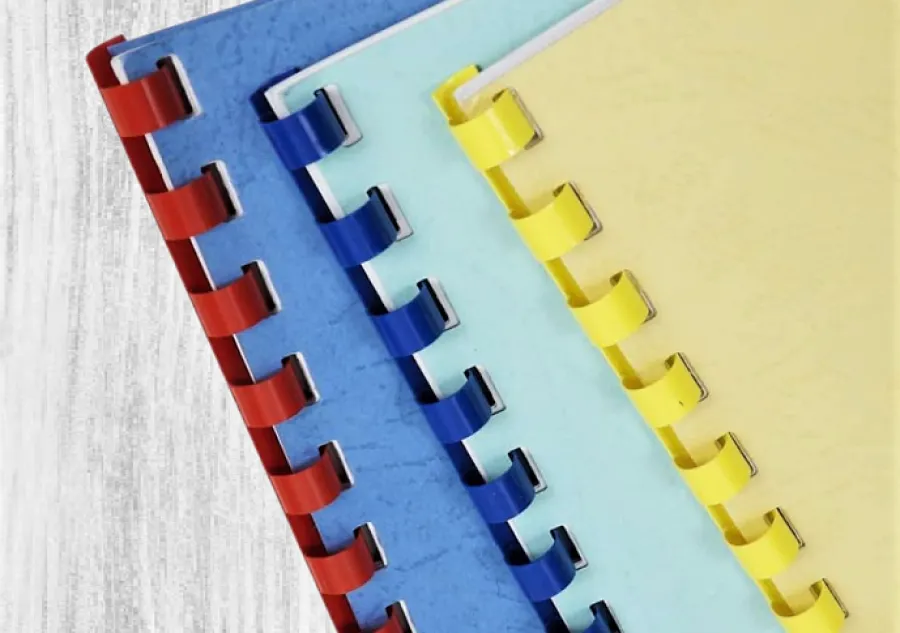 1. How did Comb Binding get its name?
The pre-formed spine elements used for comb binding contain a row of evenly spaced tines, with each tine formed into a circular shape. If these circular tines were opened fully and pressed flat, they would resemble the tines or "teeth" of a large hair comb. Hence, this is why we refer to this binding method as "Comb" Binding.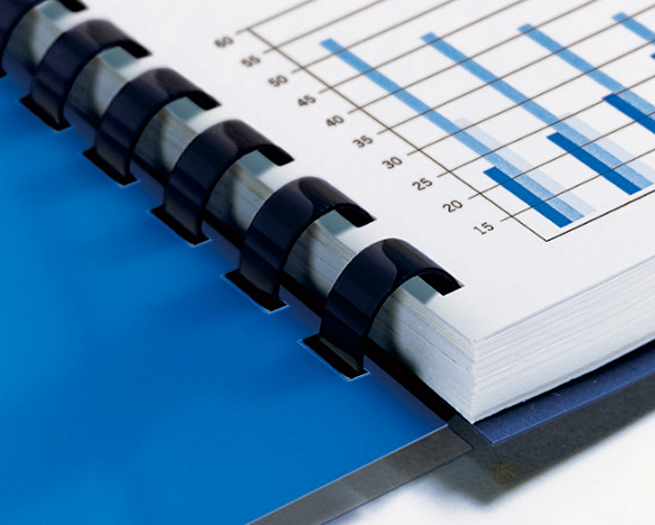 2. What are the advantages of Comb Binding?
Comb Binding is an economical binding system that adds a clean look to any multi-page document. One of the primary advantages of comb bound books is that it allows "hands-free" referencing. When an open comb bound book is placed on a desk or table, the pages will stay put without the need to be continually held open. This allows the hands to remain free to perform other tasks, such as when referring to a repair manual or cookbook.
In addition, the spines are available in a range of colors to complement any book. The spines are also available in a variety of diameters to accommodate books with only a few pages as well as books with several hundred pages.
Comb binding also works well with index tabs used to organize a book into manageable sections. Best of all, the spines of comb bound books are durable and secure, so the book's pages remain intact.
3. What material is used to make Comb Binding spines?
The spines used for comb binding are made of flexible PVC plastic. PVC (polyvinyl chloride) is the ideal material for binding spines because it is strong, abrasion-resistant, and very affordable. Also, PVC won't chip or peel, nor will it discolor with age.
4. What are the color choices?
Comb binding spines are available in a multitude of colors to complement virtually any book project. The most popular spine colors are black, white, and blue. Other colors include red, green, yellow, maroon, gray, and clear.
5. What is the size range for Comb Binding spines?
The spines used for comb binding are available in diameters that range from 1/4" to 2". The 1/4" diameter spines can bind a stack of pages measuring up to 3/16" in overall thickness. The 2" diameter spine can accommodate a stack of pages up to 1-3/4" in thickness.
6. What are the minimum and maximum page counts that can be Comb Bound?
Regarding the minimum page count that can be bound with comb binding, that would be 4 pages. This is because the minimum number of sheets that can be bound together is 2 sheets. And since each sheet of paper has two sides and each side counts as one page, the minimum page count for comb binding is 4.
As far as the maximum page count for comb binding is concerned, that answer will actually depend on the thickness (caliper) of the sheets being bound. As mentioned in the answer to question #5 above, the largest spine diameter available for comb binding is 2". This 2" spine can bind a paper stack that has an overall thickness of 1-3/4". How many pages this equates to will depend on the thickness of each sheet.
For the sake of comparison, we'll use 70# offset and 100# cover as our paper examples…
One sheet of 70# offset paper is approximately .0058" thick. This means there would be about 302 sheets of 70# offset in a stack measuring 1-3/4" (1.75") in thickness. Since each sheet of paper counts as two pages, this would mean a 2" diameter spine could bind a maximum of 604 pages if the paper was 70# offset.
If the paper happened to be 100# cover, each sheet would be approximately .011" thick. This means there would be about 159 sheets of 100# cover in a stack measuring 1-3/4" (1.75") in thickness. Again, since each sheet of paper counts as two pages, this means a 2" diameter spine could bind a maximum of 318 pages if the paper was 100# cover.
As you can see, without knowing the thickness of the paper being bound there is no single answer to the question about maximum page count. The answer will vary because it depends on which type of paper is being bound.
7. Can Comb Bound books be opened and closed to add or remove pages?
The circular tines of comb bound books can be spread open. So it is possible to remove and add pages, if needed. This feature comes in handy for any book that needs occasional updates, such as a price guide, operations manual, or employee handbook.
It should be noted that without having a comb binding machine to help spread open the tines, it does take some effort to re-open the tines by hand. This is because the tines contain a substantial amount of tension.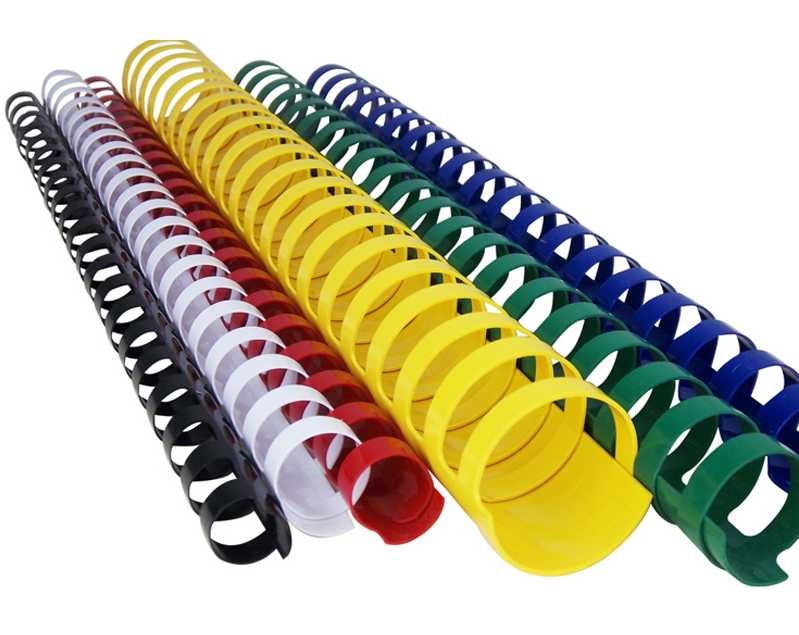 8. What types of projects are typically Comb Bound?
Comb binding is a practical choice for many types of books and booklets. These include assembly and maintenance guides, repair manuals, product and price lists, cookbooks, workbooks and study guides, operations and procedural manuals, directories, training and instruction manuals, travel guides, multi-page wall calendars, and any other bound document that would benefit from the convenience of being able to lie flat for easier reference and/or require an occasional content update.
9. Is Comb Binding suitable for crossover images?
A crossover image refers to a continuous image that crosses over a book's gutter. In other words, it is a single image that flows from the left hand page to the right hand page of an open book.
Crossover images can be used in conjunction with comb binding. However, there will be some disruption to the image as it transitions across the spine area. Like all "punch-and-bind" bookbinding styles, there will be a physical gap between the left side pages and the right side pages. Also, the circular tines on the spine element, as well as the slots punched through each page to accept the tines, will interfere somewhat with the smooth flow of a crossover image.
10. Does Comb Binding go by any other names?
Comb Binding is frequently called Plastic Comb Binding. Another name commonly encountered is GBC Comb Binding. GBC is used in reference to the General Binding Corporation, a leading supplier of finishing and binding supplies. Every now and then you may also hear comb binding referred to as Spiral Comb Binding, Surelox Binding, or Cerlox Binding.
Color Vision is ready to assist with your next book project…
Color Vision offers quality book printing at affordable prices. So whether you're looking for comb bound books or have a completely different print project in mind, give us a call at 800-543-6299 so we can discuss your ideas.
If you prefer to receive a quotation by email, simply use our Quote Request form to send us the specifications of your project. As always, we look forward to assisting with your printing, binding, and finishing needs!