Padded Documents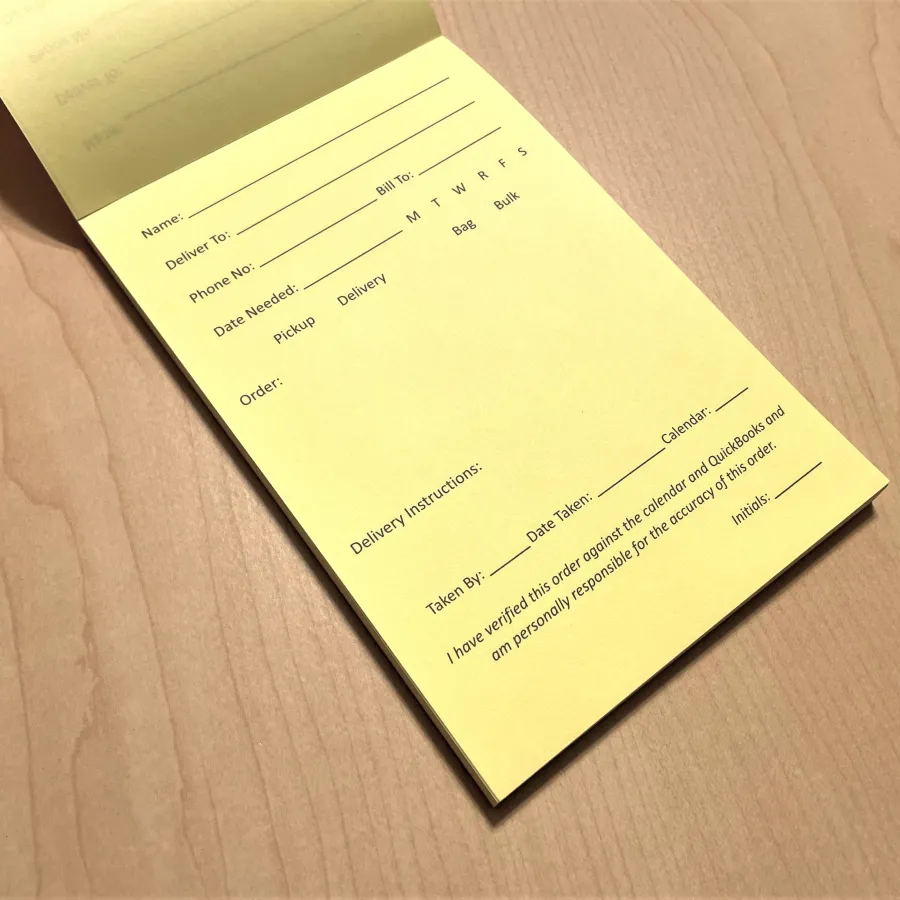 An Excellent Option for Frequently Used Documents
Forms, memos, checklists and any other business document that gets written on can be made into convenient multi-sheet Pads. To make padded documents, the sheets are first assembled into a crisp stack. Then a flexible adhesive compound is spread over one edge. The adhesive allows the topmost sheet to be removed while the remaining sheets stay attached together. A chipboard backer is normally added to give rigidity to the pad and provide a firmer writing surface.
Pads offer a simple way to keep a stack of same-size sheets in a tidy and easy-to-handle stack. Just about any frequently used document can be created as a tear-off pad, including order forms, expense reports, work orders, and picking slips. Pads are also great for reminders, to-do lists, graph paper sketches, and interoffice communication like memos, reports and notepads.
Multi-part carbonless forms can also be created as padded units. A cover is often added when padding multi-part forms. The cover is designed to wrap around the stack so that it can slide between the topmost form and the form below it. This acts as a backer sheet to prevent any unwanted transfer of handwritten data from the top form to subsequent forms in the pad.
Padded documents can be printed in black ink or in full-color. The paper is most often white but tinted stocks can also be used. Standard-sized pads, such as 8.5" x 11", 5.5" x 8.5", and 4.25" x 5.5" are the most economical to produce. Custom sizes are available as well.
Regarding the number of sheets in each pad, that is also totally customizable. You can have 10, 25, 50, 100, or any practical sheet count of your choosing. If you prefer, each sheet within the pad can also be numbered in sequence to give each sheet its own unique identification.

Color Vision can print and pad documents for any need you might have!