The Golden Touch: 5 Ways Foil Stamping Enhances Your Brand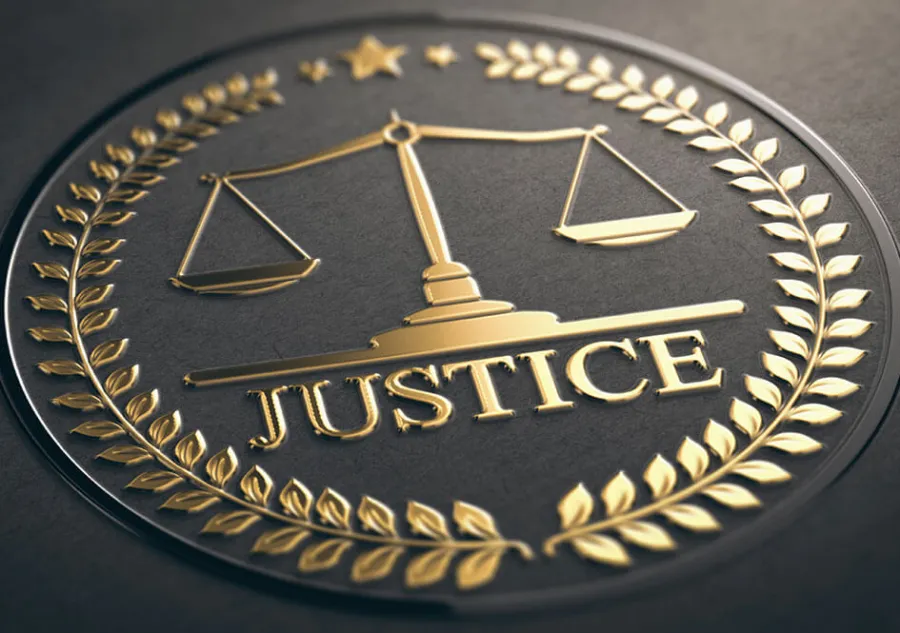 What is Foil Stamping?
Foil Stamping is a design technique that applies a thin layer of metallic or colored foil to various materials, such as paper, cardstock, or label stock. Foil stamping is used to enhance the visual appeal of print materials by highlighting specific features, such as logos, text, images, and borders.
Metallic foil stamping is a popular method for adding a shiny, reflective effect. In addition to the traditional metallic tones of gold, silver, and copper, there are many other foil colors available as well. These colored foils can have a brilliant shine or they can be more subdued, depending on the desired contrast with the base substrate. Also, holographic and pearlescent foils are sometimes used when an interesting color spectrum or special luminance is preferred.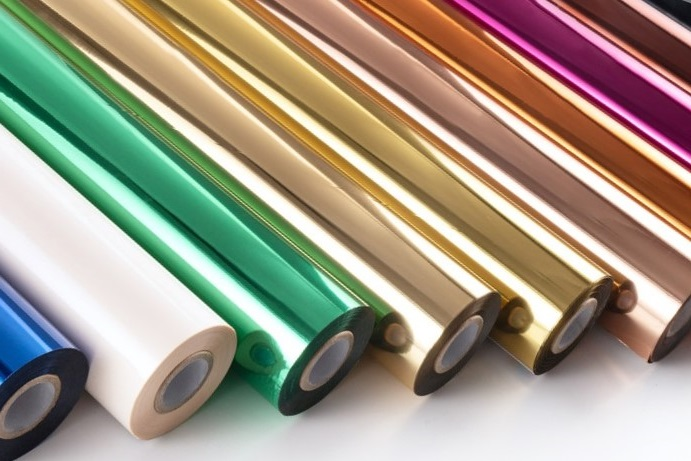 Foil Stamping is the Ideal Embellishment for Promotional Printing
Printing serves a variety of purposes, but one of the primary uses of printing is for marketing and promotion. Organizations invest in print materials to help disseminate information to current and prospective clients, hoping to stimulate interest, capture sales, and increase revenue.
Because the competition is heavily pursuing these same objectives, an organization's print marketing can't just be mediocre. In today's marketplace, promotional printing has to be exceptional. It must possess a serious "wow" factor to captivate and impress its intended audience.
This is where Foil Stamping literally shines. Foil Stamping adds attention-grabbing accents without detracting from the overall layout. It is one of the most striking design techniques for creating a positive and lasting impression.
Below are 5 ways Foil Stamping will Enhance your Brand through Print Marketing
1. Foil Stamping gets noticed immediately -
When it comes to print materials, first impressions really do matter. So catching the attention of your audience is crucial. Fortunately, the striking appearance of metallic foil gets noticed instantly.
Since the dawn of civilization, the powerful allure of precious metals, especially gold and silver, has been difficult to resist. So, the shimmering effects of metallic foil have an immediate impact on people, triggering a sense of excitement and anticipation.
2. Foil Stamping adds a level of sophistication -
When a brilliant metallic design appears in sharp contrast with a matte background, the resulting visual conveys a sense of elegance and style. This is one reason why, as a society, we have become conditioned to view products with foil accents as being prestigious.
In addition, many luxury products, such as expensive perfume and fine chocolates, have incorporated foil into their packaging designs for years. This is another reason why most people associate foil stamping with high-quality and refinement. As a result, any brand that promotes its product or services with foil-stamped marketing literature is likely to be viewed in the same positive light.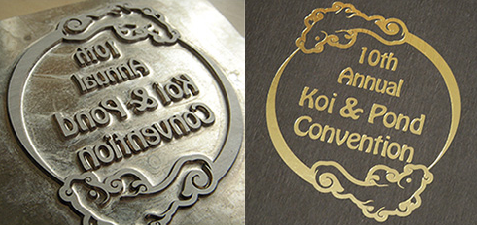 3. Foil Stamping builds trust and boosts credibility -
Print materials with foil stamping give off an air of professionalism and attention to detail. This conveys that you care about the quality of your brand and the experience you provide to your customers.
Hence, adding foil stamping elevates the perceived value of your products and services, making it easier to build trust and credibility with your audience. In turn, this makes the products and services being offered more desirable in the eyes of customers, encouraging a positive interaction and potentially justifying a higher price point.
4. Foil Stamping helps differentiate your brand from competitors
In a competitive marketplace, being able to differentiate your brand is crucial for achieving success. Foil stamping allows you to add unique and innovative elements to your print marketing, helping your brand create a distinctive identity.
This sets you apart from others in your industry and reinforces your brand's credibility. When your audience sees your well-crafted print materials, they are more likely to remember and choose your brand over others.
5. Foil Stamping creates a long lasting impression -
The shiny and tactile nature of foil-stamped designs adds a sensory element that engages your audience on a deeper level. When a client holds your foil-stamped business card or brochure, they are able to connect with your brand physically, as well as visually. This makes it more likely for them to remember you and your message.
Foil stamping is also highly resistant to fading, scratching, and other forms of wear and tear, ensuring that your marketing materials retain their visual impact over time. This longevity allows your brand and message to remain consistently impressive, helping to reinforce your image in the minds of your audience.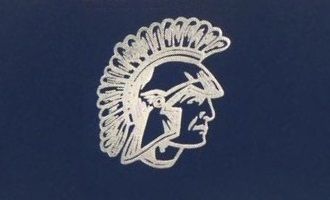 What types of Print Projects are a good fit for Foil Stamping?
Any print project designed to influence or impress its intended audience is the perfect candidate for foil stamping. Here are some popular examples…
Business Cards - business cards are often the first impression a potential client or customer has with a company or brand. Incorporating foil stamping will make business cards more memorable, creating a lasting impact and increasing the chances the card will be kept rather than discarded.
Brochures - brochures are used to showcase a company as well as its products and services. By using foil stamping to accentuate key elements of the brochure, such as logos, brand names, headings, calls-to-action, or features and benefits, attention is instantly drawn to the most important content.
Presentation Folders - presentation folders are a convenient way to share a collection of literature, proposals, contracts, sales kits, or other documents with a new or prospective client. Because presentation folders are an important part of the selling process, they must exude professionalism. In addition to quality construction, presentation folders require stylish features…which is why so many incorporate foil stamping within their design.
Book Covers - people do judge a book by its cover. The cover is the first thing a person notices about a book, so its appearance is a vital component of how the book will be perceived. If the cover is designed well, it will evoke pleasant emotions and draw the reader in. If not, it won't. Foil accents help a book entice the reader by providing an air of distinction and prestige.
Letterhead, Envelopes, and Invitations - because foil stamping exudes class and refinement, it greatly elevates the appearance and perception of printed stationery. Before one word of content is even read, the recipient will have formed a favorable impression of the organization or person who sent the correspondence.
Hot Foil Stamping vs Cold Foil Stamping
In the printing industry, there are two distinct production methods used to perform the Foil Stamping operation - Hot foil stamping and Cold foil stamping. Hot stamping uses a sculpted die, plus heat and pressure to bond the foil to a substrate. Instead of heat, Cold stamping relies on Ultraviolet light to adhere the foil to a substrate.
Below is an overview of these two foil-stamping processes…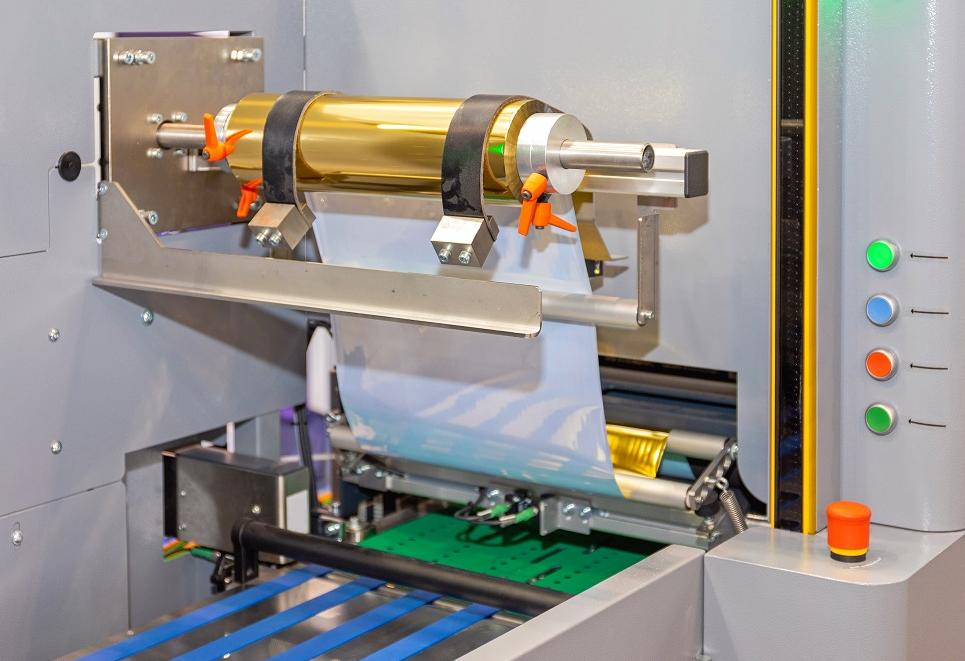 The Hot Foil Stamping Process
Hot foil stamping is a time-tested process that starts with the creation of a custom die. The die is usually made of metal, such as brass, copper, magnesium, or steel. Some applications use a die made of silicone rubber, which is a type of rubber compound that can sustain high temperatures.
The die is sculpted with the text, image, or other design that is to be stamped on the substrate. The die is then affixed into a special machine that secures the die in place. A roll of the selected foil material is also installed on the machine. The die is heated and the foil sheet from the roll passes over the substrate.
Once aligned properly, the heated die presses downward and forces the foil onto the substrate. The design is transferred to the substrate and permanently bonded from the heat and pressure. The excess foil is then removed, resulting in a detailed foil stamp that is clear and sharp.
Heat stamping can be combined with the Embossing technique to create a raised foiled image. It can also be combined with the Debossing technique to create a recessed foiled image.
The Cold Foil Stamping Process
The Hot foil stamping method has existed for centuries, but Cold foil stamping is a relatively new technology. Instead of heat, the cold stamping process uses Ultraviolet (UV) light to bond the foil.
Cold stamping does not require the creation of a die. The process is performed on an inkjet press that applies a UV adhesive to the substrate. The UV adhesive is applied in the shape of the design to be foiled. A sheet of foil, which is fed from a roll, is then pressed onto the adhesive base layer. A roller travels over the foil sheet, applying pressure to seal the foil to the adhesive.
Ultraviolet light then cures the adhesive instantly, securing the foiled design in place. The excess foil is removed, leaving the finished image adhered to the substrate.
Even though the Cold stamping method has the advantage of no die creation costs, the Hot stamping method still maintains the overall quality advantage.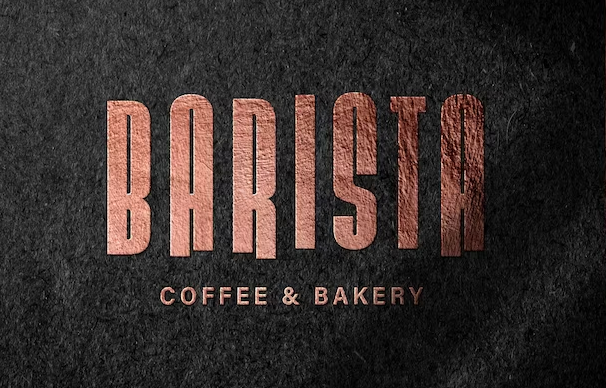 Would you like to add Foil Stamping to your next Print Project?
In today's competitive business climate, companies are always looking for creative ways to stand out from the crowd. If this describes your situation, get in touch with Color Vision. We offer a variety of foil stamping services to increase the visual appeal of your print projects and elevate your brand.
In addition to foil stamping, Color Vision also offers embossing, die-cutting, laminating, spot and flood UV coating, and many other finishing techniques that will add uniqueness and value to your printing.
We are always happy to discuss your ideas, so give us a call at 800-543-6299. Or, if you already know your project's specs, you can send us a quote request by clicking here and we will email a quote to you. As always, we look forward to assisting with your printing and finishing needs!