The Most Popular "Punch and Bind" Methods for Creating Books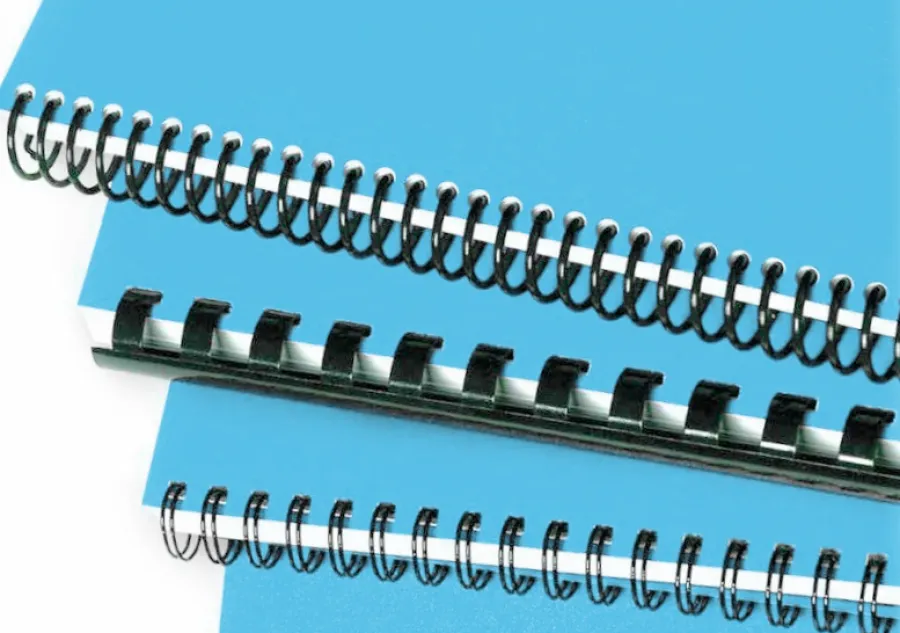 The term "Punch and Bind" refers to any bookbinding style that involves punching a series of evenly spaced holes along one edge of a book's cover and pages, and then installing a pre-formed spine element through these holes to bind all the sheets together.
Punch-and-bind methods offer a simple yet effective way to create professional-looking books and booklets. The spine element secures the book together as a unit but still allows the pages and cover to open and turn freely.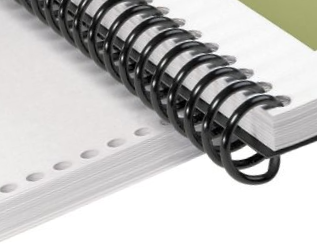 The most popular Punch and Bind methods…
Spiral Binding -
Spiral Binding, also known as Coil Binding, uses a spine element that resembles a coil spring. After a series of round holes are punched along one edge of a book's pages and cover, the coil is twisted through all of the holes and then crimped on both ends to secure it in place.
Spiral Binding is simple and inexpensive. It is also very durable because the coils are made of flexible PVC plastic.
The binding coils are offered in multiple colors to complement any book. Plus, the coils are available in a selection of diameters to accommodate books of various thicknesses.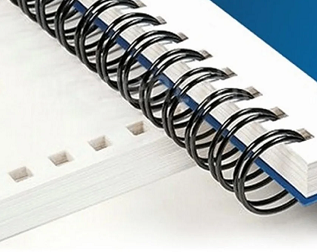 Wire-O Binding -
Wire-O Binding is another popular "punch and bind" method. It is similar in function to Spiral Binding but instead of using a flexible plastic coil to join the pages of a book, the binding element used for the Wire-O technique is made of rigid metal wire.
The wire is pre-formed into a series of dual loops. Each set of dual loops passes through a series of square or round holes that have been punched along one edge of the book's cover and pages. The loops are then squeezed into perfect circles that entrap the pages and cover. Despite its affordability, Wire-O binding adds a sophisticated appearance to book projects.
Wire-O spines come in a range of sizes to bind books of different thicknesses. In addition to an assortment of painted colors, Wire-O spines are also available in metallic finishes such as gold, silver, or bronze. The selection of color and finish choices provides a coordinated look to just about any book project.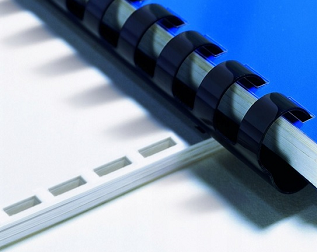 Comb Binding -
Comb Binding is yet another popular and cost-effective method for producing books. It is similar in function to the Spiral and Wire-O binding methods, except Comb Binding makes use of a "comb-like" spine element. Made of flexible PVC plastic, the spine contains evenly-spaced tines like a hair comb. These tines are pre-formed into a circular shape.
To bind a book together, the circular tines are spread open and inserted through slots that have been punched along one edge of the book's cover and pages. The tension in the tines is then released, causing the tines to spring back to their original circular shape. This tightly secures the cover and pages but allows them to turn freely.
Comb Binding spines are available in various sizes and colors to accommodate many different book projects.
What's the #1 Advantage of using a "Punch and Bind" Method?
The pages and cover of a book bound with a Punch and Bind method can rotate easily around the spine element without any resistance. This allows an open book to lie on a desk, table, or other flat surface without the need to be continually held open in order to reference the content. Once the book is turned to a certain page, the page stays put without needing to be held in place.
This leaves both hands free, which is a huge advantage for any book that needs to be referenced while performing some type of task. For example, punch-and-bind" methods are perfect for instruction and training manuals, maintenance and repair handbooks, cookbooks, craft books, adult coloring books, travel guides, first aid books, workbooks, study guides, seminar materials, books of sheet music and any other bound document that supplements a task requiring the use of the hands.
Punch and bind methods are also ideal for multi-page wall calendars because the lack of any tension in the binding allows the calendar to hang perfectly flat against the wall. In addition, all punch and bind methods work great for books that contain index tabs.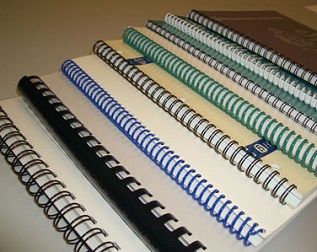 Looking for Printed Books that are High-Quality and Affordable?
Color Vision has specialized in book printing since 1984. We can produce books made with any of the Punch and Bind techniques mentioned above. We also offer Saddle-Stitched books as well as Perfect Bound books made with high-performance PUR adhesive.
So whatever book printing need you may have, just give us a call at 800-543-6299 and we will be glad to assist. Or, if you prefer to use our Quote Request form to send us your project specifications, we will be happy to send you a quote by email.
As always, we look forward to assisting with your printing and binding needs!