The 5 Most Affordable Types of Book Binding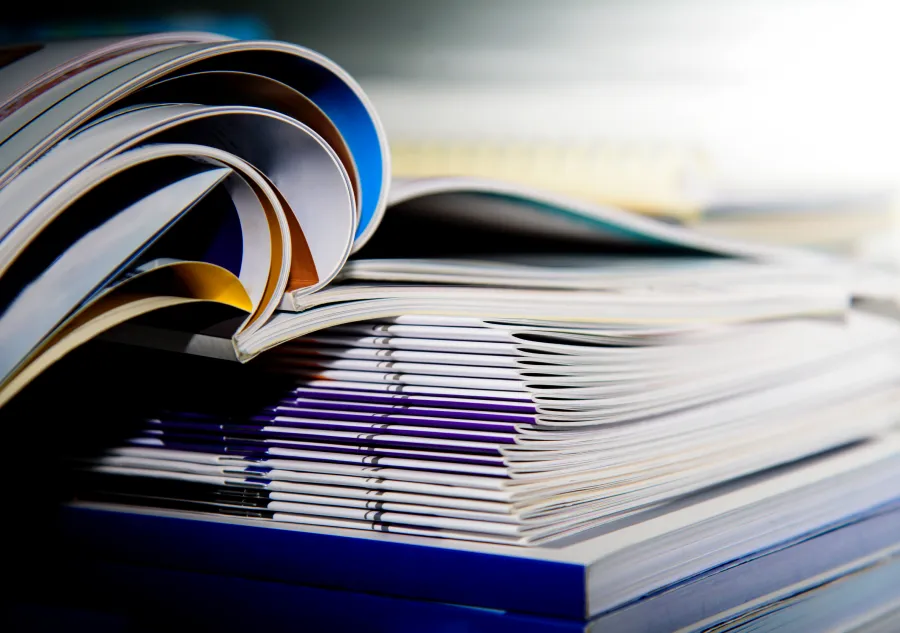 It's no secret that a book's binding is what defines it as a book. Until the binding process takes place, there is no book…there is only a set of loose sheets. The binding is what secures the pages and cover together to create a conveniently-sized and logically-arranged document, which we've all come to know as a book.
Within the world of printed books, there are many different types of book binding. Some binding methods, like casebound or hardcover binding, can be quite expensive. So it is not uncommon for these binding styles to exceed the dollar amount many people have budgeted for their book project.
Fortunately, there are also several economical binding options available for producing books. All of these options have a low cost, yet yield books that perform well and display a professional appearance.
Below is an overview of the 5 most affordable types of book binding…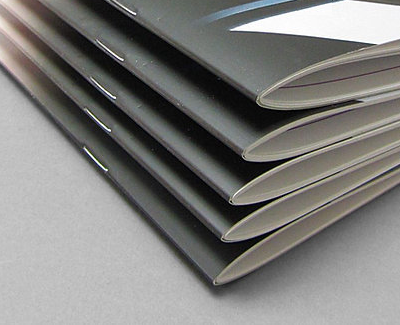 1. Saddle Stitch Binding
Saddle Stitching is the most economical binding style and is used primarily for books with lower page counts. It is a relatively simple binding method, but produces books that are well-functioning and aesthetically appealing.
The saddle stitch binding method uses wire staples to secure a book's cover and pages. After the interior page sheets and cover have been printed, they are folded in half. These folded sheets are nested one inside the other and then a folded cover is applied.
After the pages and cover have been gathered tightly together, several wire staples are driven through the fold line of the assembled sheets to secure them. Two staples are most commonly used but some oversized books might require additional staples.
Examples of projects that are a good fit for the saddle stitch binding method include comic books, coloring books, workbooks, event programs, product and instruction guides, as well as thinner catalogs, directories, and magazines. In addition to books, other documents that are often bound with the saddle stitch method include brochures, newsletters, bulletins, promotional mailers, and multi-page wall calendars.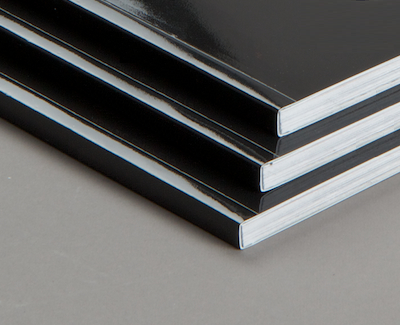 2. Perfect Binding
Perfect Binding uses a strong and flexible adhesive to secure a stack of printed pages within a wraparound cover. Once the adhesive cures, the three open sides of the book are trimmed to create perfectly straight edges. It is these "perfect" edges from which the perfect binding method derives its name.
Perfect Binding is a popular and cost-effective method for binding books with moderate to high page counts. Perfect binding is not suited for books with low page counts because the adhesive needs at least 1/8" of surface area to bond effectively. If the page count is too low, there will not be enough surface area for the adhesive to secure the edge of the page block where it meets the cover.
Perfect bound books have a very clean and professional appearance. Because they lie perfectly flat, they stack well on a desk or shelf. Also, because the perfect binding method creates books that have a flat spine, the spine can have the book's title, author name, volume number, or other important information printed on it.
The perfect binding method is a great option for many kinds of printed books. This includes manuals, catalogs, directories, handbooks, workbooks, field guides, journals, magazines, thicker comic books, graphic novels, biographies, corporate reports, and any other bound document that is more than 1/8" in thickness.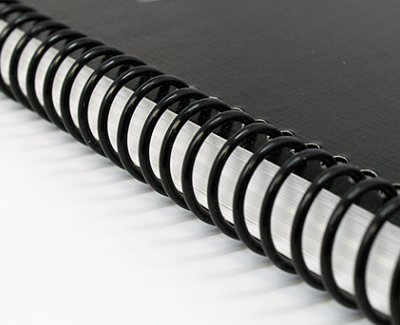 3. Spiral Binding
Spiral Binding uses a spring-like coil that is threaded through a series of holes punched along the edge of a book's pages and cover. After the coil is inserted, it is crimped on both ends to keep it in place.
Also known as coil binding, this binding method is both durable and inexpensive. The plastic coils are available in many different diameters, so this method can be used to bind books of varying thicknesses. The coils are offered in multiple colors as well, with black, white, blue, and clear being the most frequently requested color options.
A major benefit of the spiral binding method is that it allows books to open a full 360 degrees. This means the books can lie perfectly flat whether closed or open. Hence, the books can rest on a desk or table without the need to be continually held open while viewing the content. This leaves the hands free to perform other tasks, making spiral binding an ideal choice for instruction and maintenance manuals, cookbooks, craft books, adult coloring books, travel guides, first aid books, workbooks, study guides, and bound sheet music.
Spiral binding is also a good fit for multi-page wall calendars because it permits the pages to hang flat against the wall. It is optimal for easel-style flip books as well because it allows the pages to flip easily. In addition, spiral binding is a good choice for books that contain index tabs.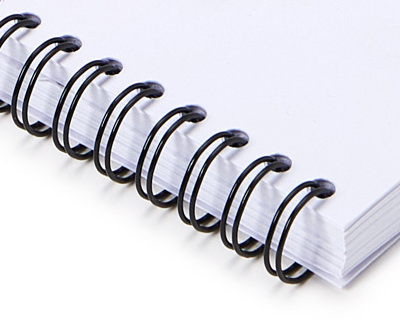 4. Wire-O Binding
Wire-O Binding is a "punch and bind" method similar in function to Spiral Binding. But instead of using a flexible plastic coil to join the cover and pages, wire-o binding uses a rigid metal binding element that is formed into a series of dual loops. Despite having a reasonable cost, wire-o binding adds a look of sophistication to book projects.
To accommodate books of varying page counts, wire-o binding spines are available in a range of sizes. Wire-O also comes in an assortment of painted colors, as well as metallic finishes like gold, silver, or bronze. The range of finish choices provides a complementary color for just about any book project.
Like spiral binding, the wire-o binding method allows books to open a full 360 degrees and lie perfectly flat for hands-free use. Consequently, wire-o is a good fit for the same types of book projects listed in the spiral binding section above.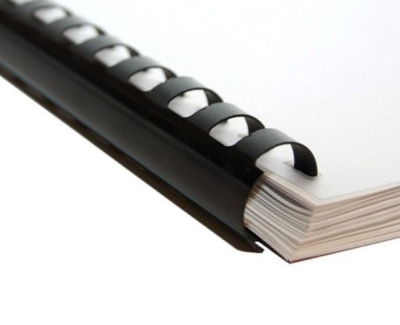 5. Comb Binding
Comb Binding is another reasonably priced punch-and-bind method for creating books. It is somewhat similar in function to the spiral and wire-o binding methods, but comb binding uses a plastic "comb-like" spine element. The spine has a series of tines like a hair comb, but the tines are pre-formed into a circular shape.
To bind a book, the circular tines are spread open and inserted through slots that have been punched along one edge of the book's cover and pages. The tension in the tines is then released, and the tines spring back to their original circular shape. This entraps the cover and pages but allows them to turn freely.
Comb binding spines are available in various sizes and colors. Like spiral and wire-o bound books, an open comb bound book can lie perfectly flat on a desk or table for hands-free use. However, unlike a spiral or wire-o bound book, a comb bound book cannot open a full 360 degrees.
That said, comb bound books are still a good fit for many of the same types of projects as spiral and wire-o bound books. This includes manuals, cookbooks, study guides, workbooks, and multi-page wall calendars.
Are you looking for budget-friendly printing and binding?
Color Vision has been a printer of affordable books and booklets since 1984. We offer all of the book binding types mentioned above in short, medium, and long production runs.
If you have an upcoming book project and would like to receive a quotation by email, please complete our Quote Request form. Or, if you prefer to discuss your project by phone, we can be reached at 800-543-6299.
By the way, if you want to learn more about any of the book binding methods outlined above, or see the steps involved in each of these binding processes, visit the pages shown below:
As always, we look forward to assisting with your next book project!