10 Frequently Asked Questions about Saddle Stitching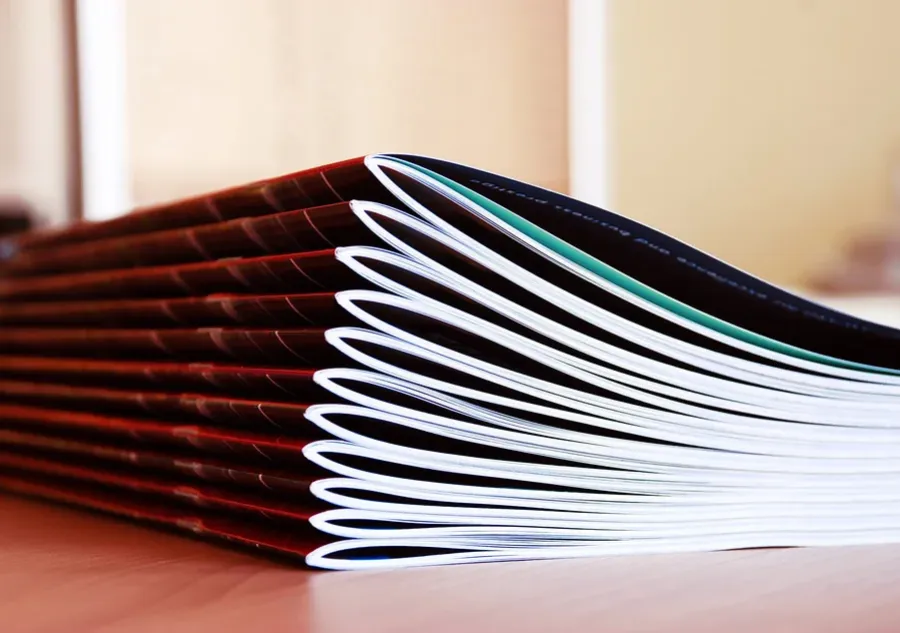 1. How did Saddle Stitching get its name?
To construct a saddle-stitched book, printed sheets are partially folded and then draped one at a time over a conveyor apparatus that is shaped like an inverted "V". The crease of the partially-folded sheets straddles the apex of the inverted "V". Once all the interior pages are aligned in place, the partially-folded cover sheet gets placed over the assembled pages and the conveyor moves to the stapling station. Staples are then driven through the fold line of the cover and all pages. The staples are cinched tight after penetrating the innermost sheet and the stapled fold line creates the book's spine. The cover and page assembly is then folded tighter together and the open edges are trimmed.
So…the inverted "V" shape of the conveyor mechanism functions as a Saddle on which the folded sheets sit astride as they are being collated and stapled. Also, the joining of the sheets with wire staples is known as Stitching in the printing business. Hence, this popular bookbinding method is referred to as Saddle Stitching.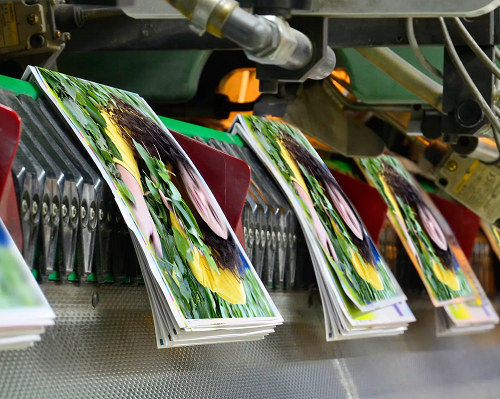 2. What are the advantages of Saddle Stitch binding?
Saddle Stitching is the preferred binding method for books with lower page counts. Despite its relative simplicity, books produced with the saddle stitch method have a very professional and tidy appearance. Saddle Stitching works well for a wide range of book dimensions, from pocket size to giant size.
Also, saddle stitching adds minimal weight or bulk to a printed book so it can help reduce mailing and shipping costs. In addition, the saddle-stitch binding method is suitable for production runs of any length - short, medium, or long.
3. Is Saddle Stitching an affordable binding style?
Saddle Stitching is an extremely affordable binding option. In fact, it is the most economical bookbinding method available.
4. What is the difference between a "Self-Cover" book and a "Plus Cover" book?
Saddle Stitched books can either be made as a "Self-Cover" book or as a "Plus Cover" book. A Self-Cover book uses the same type and weight of paper for the outside cover as it does for the interior pages. The entire book, cover and pages, is printed on the exact same type of paper. This offers some cost savings because the entire book can be printed and assembled all at once instead of needing two separate production runs for the cover and pages.
Conversely, a Plus Cover book is made with a different type of paper for the cover than what is used for the interior pages. For example, a Plus Cover book commonly uses a heavier paper for the cover and a lighter paper for the pages. It is also common for a book's cover to be a coated stock while the inside pages are uncoated. In both of these examples, the paper stock for the cover is different from the paper stock for the pages. Thus, these books are referred to as Plus Cover books.
By the way, even though "Self-Cover" books are more economical, most orders placed for saddle-stitched book projects are "Plus Cover."
5. What are the maximum and minimum page counts for Saddle Stitching?
The maximum page count for saddle-stitched books tends to vary from printer to printer. Some may push the limit of what the binding staples can hold and manufacture saddle stitched books with well over 100 pages. But, saddle-stitched books with too high of a page count have the potential to "spring open" instead of lying flat. So our recommendation is a maximum of around 60 pages. Since each folded sheet within a saddle-stitched book creates 4 pages of the book, 60 pages equates to 15 folded sheets.
Regarding the minimum page count for a saddle-stitched book, the minimum number of folded sheets that can be joined with staples is 2. Because each folded sheet creates 4 pages of the book, this translates to an 8-page self-cover book (where the entire book is made from the exact type and thickness of paper) or a 4-page plus cover book (where the cover is a different paper type and/or thickness than the pages).
6. Can the Saddle Stitch binding method be used to create landscape books?
A Landscape orientation refers to books that are wider than they are tall. For example, a book measuring 9" wide x 6" high or 11" wide x 8.5" high is an example of a landscape book.
Generally speaking, the saddle-stitch binding method can be used to create landscape books. That said, it largely depends on how well the book's dimensions and order quantity align with the printing presses at the company you are considering to print the job. This is because Short run projects are better suited for Digital printing presses and Medium to Long run projects are better suited for Offset printing presses. This is important because Digital presses generally have a smaller maximum sheet size than Offset presses.
So, let's say the finished dimensions of your landscape book are to be 11" wide by 8.5" high. Because saddle-stitched book are created from folded sheets, this means the sheet size needed to print the cover and pages of this book would need to be 22" wide (or even a little more because presses rarely print edge to edge.)
Now let's say you only need 100 or 200 books in this size, which means it would need to be produced on a Digital press to be cost effective. However, if your printer only has a standard 13" x 19" Digital press, you'll have to find a printing company that has a larger Digital press because obviously 22" exceeds 19" . Or, consider increasing the order quantity so the books can be produced economically on an Offset press that can print on a larger sheet size.
By the way, if the order quantity was 500, 1000, or more to start with, this same landscape book project would be a good fit for an Offset press. So the sheet size would not have been a concern.
The best advice is to discuss your saddle-stitched landscape book with your printer upfront, especially if you are looking for a short production run and your printer only has smaller Digital presses.
7. Can Saddle Stitched books have text printed on the spine?
Because saddle-stitched books are created from folded sheets, the spine that results is basically just a thin folded edge. As such, the spine has no available space on which to print.
8. What types of projects are typically Saddle Stitched?
As mentioned in the answer to question #2, the saddle stitch binding method is better suited for books with relatively low page counts. Common examples of projects that are a good fit for saddle-stitching include comic books, coloring and activity books, workbooks, event programs, product and instruction guides, plus thinner magazines, catalogs and directories. In addition to books, other documents that are frequently bound with the saddle stitch method include newsletters, bulletins, promotional mailers, brochures, and multi-page wall calendars.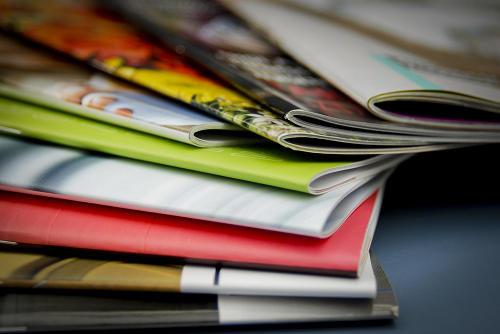 9. Is Saddle Stitch binding suitable for crossover images?
Crossover images are images that span across two opposing pages of an open book. As the name implies, these images "cross over" the spine area of an open book as they flow from the left hand page to the right hand page.
Because of the way saddle stitched books are imposed and bound, it can be a challenge to have the left and right sides of a crossover image align perfectly with each other as the image flows across opposing pages. However, because the page spread at the very center of the book prints on a single sheet of paper, this center spread will display a crossover image without any disruption.

10. Does Saddle Stitch binding go by any other names?
Saddle Stitch and Saddle-Stitching are the most popular references used for this binding style. Occasionally, you may also hear this method referred to as Staple Binding, Saddle Binding, or Stitch Binding.
Color Vision is ready to help with your next custom printed book project…
Color Vision specializes in printing high-quality books and booklets at affordable prices. So whether you're looking for books printed in full color CMYK, PMS colors, black ink, or grayscale, we offer a one-stop solution for your printing, finishing, and binding needs. So give us a call at 800-543-6299 to discuss your project.
If you already know your specs and prefer to receive a quotation by email, simply fill out our Quote Request form and we will get busy working on it. As always, we look forward to assisting with your next book project!