Laminated Printing: Is a Sealed Edge or Flush Cut Better?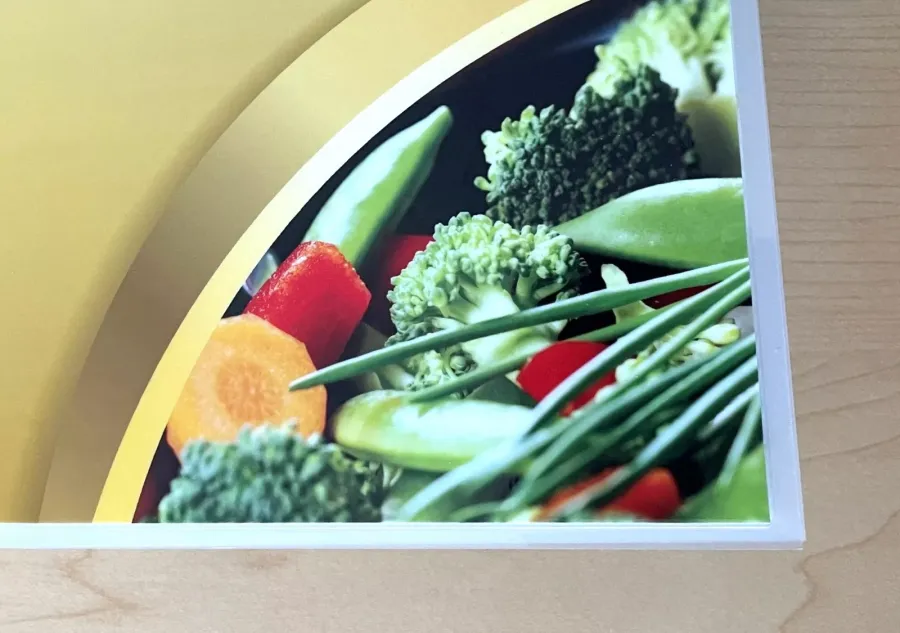 Laminating involves the application of a durable plastic film to the surface of a printed document. The plastic film adds a layer of protection to the printing, allowing it to resist dirt, moisture, scuffs, wrinkles, and tears.
To achieve the maximum benefit, the laminate is most commonly applied to both sides of the printed piece. Commercial printers use a combination of heat, pressure, tension, and a bonding agent to apply the laminate film.
Laminates are available in various thicknesses and sheen levels. There are also two main types of edge finishing from which to choose: a Sealed Edge or a Flush Cut edge.
But, which edge treatment is the better choice? In this article, we'll take a closer look at these two edge options and help you decide which one is right for your particular project.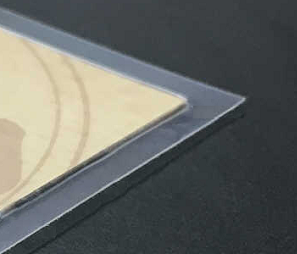 What is a Sealed Edge Laminate?
To create a Sealed Edge, both the top and bottom sheets of laminate film must be slightly larger than the printed piece. This allows both laminate sheets to extend past the edges of the printed piece on all sides. So, in addition to bonding tightly to both sides of the printed piece, the top and bottom laminate sheets also bond tightly to each other around the entire perimeter of the piece.
A sealed-edge laminate typically overhangs the printing by 1/8" on all sides. However, the amount of overhang could be 1/4", 3/8", 1/2" or whatever amount a client prefers for their particular project.
The primary advantage of the sealed-edge laminating method is that it encloses the entire printed piece within plastic. As its name signifies, the perimeter edge is completely sealed. Thus, no grime, moisture, or other contaminants are able to come in contact with the ink or paper.
What is a Flush Cut Laminate?
Just like with the sealed-edge method, the Flush Cut method also uses a sheet of laminate bonded to both sides of a printed piece to protect it. However, as its name implies, a Flush Cut involves trimming the laminated document so the plastic film is flush with the edge of the paper. This creates a very clean edge.
The primary advantage of the flush cut method is that it is aesthetically appealing. The laminate does not extend beyond the paper the way it does with the sealed edge method. However, this means the flush cut method leaves the edge of the printed substrate unprotected, making it vulnerable to stains and spills that could potentially seep in.
Sealed Edge vs Flush Cut…which is Better?
Which of these two styles is better largely depends on the type of project being laminated as well as personal preference.
If the primary concern is protection, a sealed edge laminate may be the better option for a given project. A sealed edge laminate provides a more complete seal than a flush cut laminate.
But, if the primary concern is visual appeal and clean edges, then a flush cut laminate may be the better choice.
By the way, both of these laminating methods are popular. In our experience, about 60% of laminated projects are ordered with a sealed edge and 40% are ordered with a flush cut edge.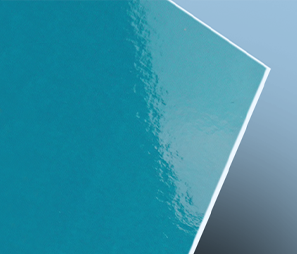 Sealed Edge vs Flush Cut…which is Cheaper?
As far as cost is concerned, both methods are very affordable. However, a flush cut edge will cost slightly less than a sealed edge.
Sealed-edge laminate costs a little more due to an extra production step. A sealed edge laminate first requires the printed piece to be trimmed to size and then bonded between the two sheets of laminate. The laminate, being larger than the printed piece, is then trimmed to its desired size. So, the sealed edge method requires two separate trimming operations.
Conversely, a printed piece made with flush cut laminate is only trimmed once. The printed piece is bonded between the two sheets of laminate and then the paper substrate and laminate are trimmed at the same time. Because the edge of the laminate is to be flush with the edge of the paper substrate, only one trimming operation is needed to accomplish this.
What types of print projects use a Sealed Edge Laminate?
Because a sealed-edge laminate provides the ultimate protection against stains and spills, it is a popular choice for printed restaurant and bar menus. It is also a good choice for printing used in industrial settings that might be greasy, oily, or damp. For example, equipment tags, factory signage, and machinery instructions are almost always created with a sealed edge laminate.
In addition, printing that is to be used outdoors, such as field guides or maps, are often made with a sealed edge laminate to protect against dirt, mud, rain, snow, tree sap and similar contaminants.
Sealed edge laminates are also ideal for printed pieces that will see frequent handling, such as flash cards, flip decks, and educational materials. Not only does the sealed edge laminate keep these items protected from scuffs and fingerprints, it also allows them to be disinfected regularly without harming the ink or paper.
What types of print projects use a Flush Cut Laminate?
Though a flush cut laminate leaves the edge of a printed substrate exposed, it still provides a high level of protection and increases the longevity of printed pieces.
Because a flush cut laminate offers a clean appearance, it is used extensively for marketing pieces. Popular examples include brochures, postcards, presentation folders, business cards, door hangers, promotional bookmarks, and point of purchase displays.
Flush cut laminates are also frequently used to increase the dirt and tear resistance of book covers, as well as for adding protection and durability to wall charts and posters.
Laminated Printing is one of Color Vision's Specialties
Laminating is a highly effective way to add a layer of protection to print materials. It is also very cost-effective because it increases the longevity of the printing.
Color Vision offers just about every type of laminate option you could need. Best of all, our prices for laminated printing are among the lowest you will find anywhere.
If you have an upcoming print project - laminated or non-laminated - give us a call at 800-543-6299 and we will be happy to assist. Or, if you prefer to receive a quote via email, please use our simple Quote Request form to send us the specifications of your project.
As always, we look forward to assisting with your printing and laminating needs and hope to hear from you soon!